Summer Sunday School
Sunday school will resume on Sunday July 10 and run through Sunday, August 28. The goal of Summer Sunday School this year will be to allow parents and caregivers to fully engage in worship while children are lovingly cared for through numerous summer activities. This can mean outdoor time, water play, gardening, crafts, games, and art as we aim to move away from a class-room format into a more play based experience during the summer months.
 _____________________________________________
Saturday Morning Bible Study
will meet at 9 am in the Library Lounge
All are welcome!
August 13: Lesson (Luke 12:49-56)
August 27: Lesson (Luke 14:1, 7-14)
_____________________________________________
Caring for Inactive Members
How to Make God's House a Home
The Purpose of This Course
Throughout our lives, we may encounter friends, relatives, neighbors, and work associates who have drifted away from their faith community, people who no longer attend worship or participate in church activities.
We want to reach out to them and bring them back—but we're not always sure how.
Caring for Inactive Members: How to Make God's House a Home equips participants to relate to inactive members in respectful, kind, and gentle ways that convey the love of Christ.
In this course, participants build understanding as they learn: what most often causes people to withdraw from the church what not to say and do—what can drive people even farther away from the church how our attitudes affect the way we relate to inactive members how to prevent inactivity in the first place how to welcome inactive members back home. They also build skill and confidence as they learn and practice: how to listen effectively to inactive members, how to handle other people's anger, what to say and do during intentional visits, and chance encounters with inactive members
If you have any interest or are just curious about this course, please reach out to Vicki Elfers (velfers@optonline.net) or Pattie Komornik (cindersnowariel@aol.com).
***New Class forming soon***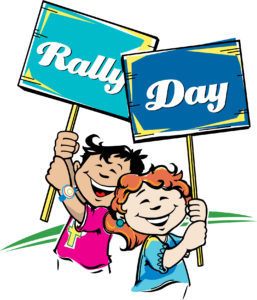 RALLY DAY
Sunday, September 18
Sunday School Kickoff And Family BBQ